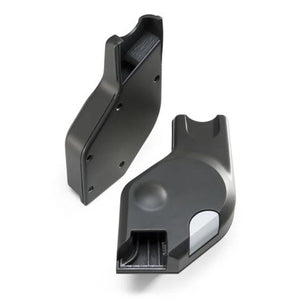 Stokke Car Seat Adapter Maxi Cosi
Approved for use with selected Stokke strollers and compatible with the following car seats:
Nuna  Pipa
Cybex Aton Q
Maxi Cosi® Mico NXT
Maxi Cosi® Mico Max 30
Clek Liing
Compatible with Stokke  Trailz  and Stokke  Beat™
*Scoot serial number 118AA0040583 and above
Makes it possible to use selected Maxi-Cosi , Nuna , or Cybex car seats with selected Stokke  strollers. For a convenient and premium travel system, Stokke  offers car seat adaptors for use with selected car seat models made by other manufacturers on selected Stokke  strollers.
Features
Stokke® offers the Stokke  PIPA by Nuna  Car Seat that can be used with Stokke strollers without the use of adaptors.
Stokke also offers car seat adaptors for use with selected car seat models made by other manufacturers on selected Stokke  strollers. Compatible Stokke strollers:
Stokke  Xplory  (sn: 24770 and above)
Stokke  Scoot  (sn: 118AA0040583 and above)
Stokke  Trailz
Stokke  Beat
Approved car seats for use with Stokke  Stroller Car Seat Adaptor Multi:
Nuna  Pipa
Cybex Aton Q
Maxi Cosi  Mico NXT
Maxi Cosi  Mico Max 30
Clek Liing